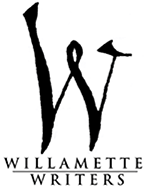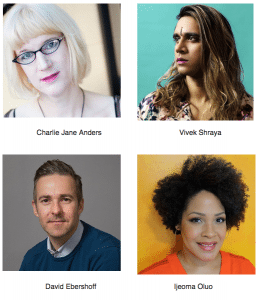 I attended the Willamette Writers Conference at the beginning of August. My focus was on craft workshops and my favorites were the ones led by Eric Witchey (ericwitchey.com) and Hattie Ephron. (hallieephron.com). I learned a lot from both of them and I recommend them as teachers. Now I am eager to start practicing and using some of the techniques they shared.
If you were looking for a theme for this year's gathering, it is clearly stated in the conference title: "Celebrating Diverse Voices in Writing" and it sure lived up to its promise. The keynote speakers alone included two transgender women, Charlie Jane Anders and Vivek Shraya; gay writer David Ebershoff, author of The Danish Girl; and Ijeoma Oluo, who like Barack Obama was born to a black father from Africa and a white mother from Kansas. The workshops included topics such as "Incorporating Diversity and Inclusion in your Writing," "Fundamentals of Queering," and "Diversity in Fantasy/Sci-Fi World Building."
There was plenty of talk at the conference about writing and imagination as tools of resistance against the current disturbing trends in our national politics, trends opposing the growing diversity in our American population. I agree with this kind of resistance. I decided to publish my 1920s trilogy when I saw the many disturbing parallels between today and 1924. That was the year the Ku Klux Klan supported new immigration laws favoring white Northern European applicants while limiting immigrants from Eastern and Southern Europe, and from East Asia. In that same era Catholics were reviled for their religion, just like Muslims are today.
Resist!
***
I have just sent off the text for Dangerous Medicine,
Book 3 of my Medicine for the Blues trilogy,
to the proofreader.
The book release party will happen on
Saturday, November 3rd, 3:30 PM
at the Q Center, 4115 N Mississippi Ave, Portland, Oregon 97227.
I hope you can join me.
You all have a good summer.
***